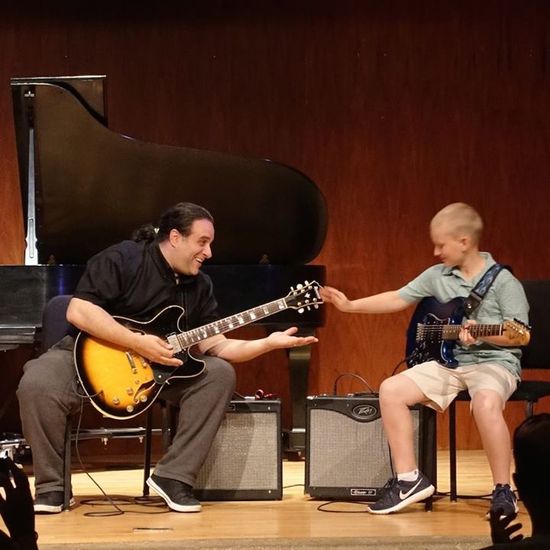 _____________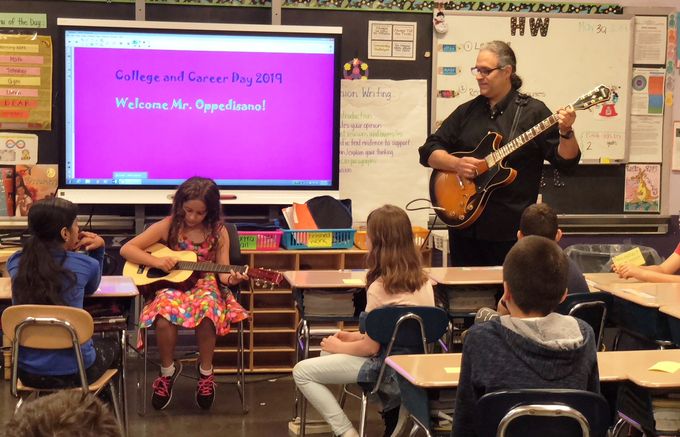 _____________
I offer a unique and highly enlightening approach to guitar instruction and music education. Here are some of my credentials:
NYS PreK- 12, Advanced Certificate in Music Education, Queens College Aaron Copland School of Music/CUNY

39 years playing experience and 31 years experience teaching guitar and music all styles and all ages. 

Masters Degree in Music Composition, Queens College Aaron Copland School of Music/CUNY

Bachelors Degree in Music Composition, Conservatory of Music at Brooklyn College/CUNY

High School Music Teacher with the NYC Department of Education and have taught at various private schools

Performance and recording experience in many styles of music

Critically acclaimed guitarist and composer with 6 album releases of electroacoustic music with guitar
I live in Forest Hills, Queens and also offer in person private guitar lessons in Nassau County. I have also been fingerprinted by the NYC DOE and NY State. I also teach remote private lessons around the US via Zoom, and FaceTime.  Contact me at marco.oppedisano@gmail.com for rates and further information.
For more information about my teaching, please look at my digital portfolio:
Marco Oppedisano - Music Teaching Digital Portfolio
Guitar Instructional Videos (Led Zeppelin, Jimi Hendrix, Black Sabbath, Cream (Eric Clapton) and Pink Floyd
For LinkedIn recommendations go HERE..
_____________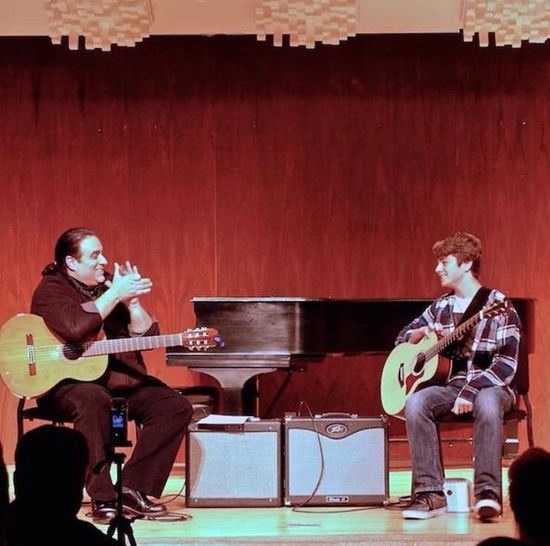 Student Testimonials
"Marco and I met while I was studying at Bard High School in the Lower East Side, nearly a decade ago. The magic in working with Marco, is that he is able to fine tune what I am already building upon, while stretching my interests and musical perspectives. This is no method-approach. Marco will pinpoint and create a teacher-student experience to help you grow as a musician and person. If you bring your heart and dedication to the lessons, you'll reap the benefits of Marco's abilities. Learn to play music, not the guitar! A well-mannered, intelligent and super friendly cat, Marco is the man!" – Ruslan Pantaev
__________
"Where words fail, music speaks.
Each one of us hears and responds to music differently, and for those of us willing to dig deeper, we learn.
Finding a teacher who is agenda free, but is in touch with the tools needed to help a student find his or her voice, is an exception and not the norm.
If you've found yourself here, then you have heard or know something about Marco Oppedisano.
One of the premier composers of our day, who actually still gives lessons, is an experience any serious musician should not take lightly. 
My son is on his dream journey to become a professional percussionist. Marco's experience, knowledge and expertise in teaching has helped our son be at the forefront of his endeavors. His teachers are constantly amazed at his ability to learn and play difficult pieces quickly. 
Marco's teaching was no small part on helping our son learn and adapt to playing at a higher professional level.
I would highly recommend anyone from beginner to a seasoned professional to avail themselves of the education Marco provides. " - Randy L. Branch
_________
"My dad's been friends with Marco for a long time. When I began to take my musical journey more seriously, Marco began to tutor me. Officially, my lessons with Marco were about the guitar, and I learned many things about the instrument from him, be it scales/practice exercises or some of my favorite songs. But the best part about learning from Marco is his ability to really understand his students' connections with music. He is always interested in what his students wish to learn and this fosters a great sense of excitement and enthusiasm in his lessons. From jazz to metal, Marco is a fantastic resource for growing musicians."  - Ian Hendricks
_________
"I was a student of Marco's for about two-almost three years, and his excitement, love, desire, wisdom and passion for music and teaching is something that can't be described in words. Marco is a teacher that likes to have fun with whatever it is he may be teaching, but he is also very serious about it to make sure his students learn what they want in the best way possible to them. He will encourage his students if they need it and congratulate you every time you complete whatever it is you may have learned from him. I mostly learned techniques/songs from artist's such as Randy Rhoads, Angus Young, and much more from Marco. He will not let you down. He won't give up on you. I would gladly learn from him any time /any chance I'd get." – Myles Hanlon
____________ 
At the iSchool of Music and Art with longtime student, Dylan Morrissey performing Minor Swing by Django Reinhardt/Stephane Grappelli.
_____________
"Marco has been teaching my son how to play the guitar since 2008. I feel that we were blessed having Marco as my son's first teacher. He really understood him and I was brought to tears at his very first recital when I was amazed how much he had learned in just a short few months. He is a senior in HS now and he has a love for the guitar and a passion to learn new music on his own Marco is an exceptional teacher who is very patient and understands his students and listens to their needs. He is extremely talented and anyone would be very lucky to have him as their music instructor. I recommend him highly. He is the best!" – Mia Marmorale
___________
"I studied with Marco in my senior year of high school. I had been playing for about a year at the time. Marco was very encouraging and informative. He was always willing to go the extra mile - whether that meant lending me a book, helping me record for an audition in his home studio, or just giving me an extra 15 minutes of his time. We spent most of our time learning solos from the masters, discussing the fundamentals of music theory, and playing together. When I left for college I had a great foundation to build on. His diverse background makes him a great resource! Thanks Marco!!!" – Julian Litwack
_____________
"Around my senior year of high school, I knew that my progress as a guitar player was in a rut. I needed that extra push to get me to another level. Marco was the guy that made it happen. The way he ran lessons, for me at least, were based on the kind of music I wanted to play at the time, and what I was listening to. It gives you, as a student, the chance to really explore all of the nuances of what you are trying to play. Tell Marco which song you want to try to learn, and he will transform it into a clinic on what I like to call the "little things" most young guitar players overlook. Like any great teacher, Marco expects nothing short of your best effort, so stay focused, and commit time to practice.
I only had lessons with Marco for a few months, but nearly 9 years later, I remember them like they were yesterday. My approach to music incorporates so many of those "little things" that I mentioned earlier. Take lessons with Marco. You'll see what I mean. And trust me. You will be glad that you did." – Nick Pollutri
___________
"I met Marco around 2006 at Maggio's Music and he was recommended by one of the staff there and it was the best decision I've made throughout my guitar life. I've taken lessons with him for more than 3 years even after Maggio's Music. I've learned the basics starting from the very beginning and he corrected all my bad form and habits. I've learned many techniques from scales to solos and many songs. Marco is very knowledgeable and flexible with his lessons. At one point, I took pure music theory with him so we can apply it on the guitar. His lesson plans are also very CUSTOM to your needs, not some generic lessons you get from an online video. He's helped me prepare for my audition for Berklee College and also gave me suggestions on how to improve my song writing. Marco is very professional with his lessons and wastes no time. If you need a guitar instructor, I highly recommend him, he is one of the best I've ever met." – Billy Thai
_____________
My guitar ensemble students performing my Duke Ellington arrangement at the iSchool of Music and Art. Premiere took place at Weill Recital Hall in February 2017.
 _____________
"Marco taught my son, Michael, from ages 10-18. He did a great job not simply because he knows music and is a great guitarist, but also because he realized that Michael would learn the most if the lessons were done in a way that best fit Michael.
He started Michael off with the standard scales, chords and reading instruction but, after a while, Michael wanted to focus on playing songs that he liked. Marco adjusted immediately and the lessons turned into jams, techniques tips, interplay and some deep musical conversations.
It's fair to say that Marco's flexible approach enabled Michael to hear his own musical voice---which is what playing music is ultimately about.
My wife and I can't say enough about Marco. He's a great combination of musician and human being. If you're looking for a guitar teacher, we urge you to contact him immediately.– Gordon Schonfeld
___________
"Marco is one of the best teacher ever, I knew him way back in 1997 when I first came in to the state. At first, one of my friend was taking the session and he didn't mind me just staying and observed. After a few classes, I decided to go with Marco. As a new immigrant, language barrier is a problem. He 's patiently teach me from a to z. Making sure I understand everything. Although, I knew some of the basic of the guitar. I was surprisingly I could learn how to read music. Be able to improvise with him during lesson. You're not just learning how to play song/guitar. You learn music theory all in a packet. I still remember one day I was playing in the local shop in HK, people was whispering this guy is good. This is a good memory that I have until now." - James Wong
 _____________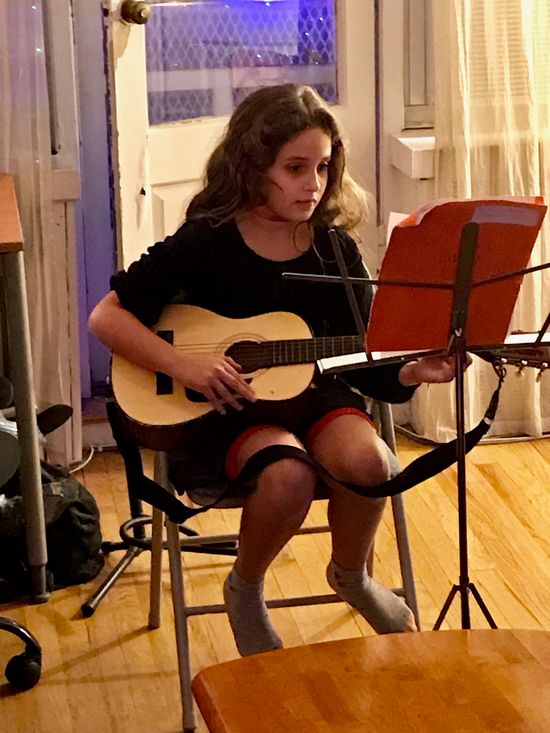 _____________
 "I took guitar lessons with Marco for over four years. In that time Marco taught me basic guitar all the way up to college level. With Marco's help I was able get into Hofstra University's music program and be prepared to play guitar at a college level. Without Marco's lessons I would not be able to achieve my goal of going to college for Music." – Matt Canginani
__________
 "Taught me from 1999 through 2002 from the basics to jazz improvisation. Marco has an exceptionally diverse background, and can help you tackle any musical issue. I still refer to his notes and contact him for advice to this day." - Andrew Mollica
___________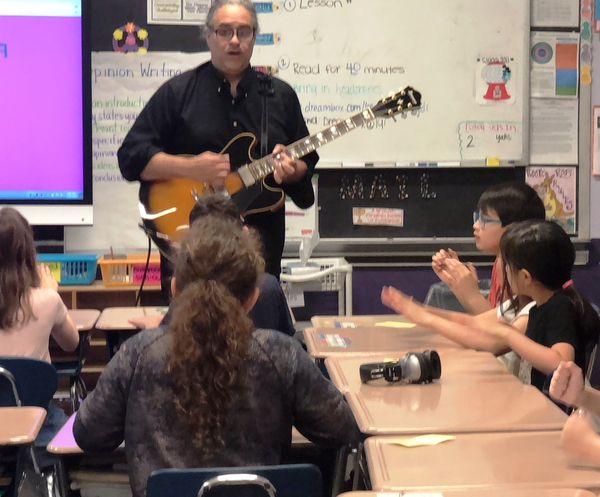 ___________
"In June, 1996, I had finally convinced my mother to sign me up for guitar lessons at Maggio Music School, in Brooklyn, NY. By August that same year, I was ready to quit. My instructor was clearly talented, but well into his 70's. I was frustrated, bored, and ready to give up. 
That was until I was given a free lesson to try a new teacher, Marco O. This one, half-hour lesson, is the reason I am still performing nearly two decades later. For the new few years, I met weekly with Marco, who was patient and precise. He cares about the individual student. For me, he quickly established a baseline, and we progressed by playing music styles that interested me. He would encourage me to bring a tape or CD (remember those?!) to our lesson. Then, he would learn the tune by ear AND transcribe the notation into guitar tablature, the numerical way of writing music. This made learning infinitely more enjoyable and easier, too. 
A few years after stopping lessons, I wanted to take up lead guitar and scales on a more serious note, pun intended. Without considering anyone else, I immediately returned to Maggio Music School to ask for Marco. We resumed, re-established a baseline, and began our next journey. 
There is no other guitar teacher I feel more confident in recommending to you. Marco is classically trained in theory and a true master of the guitar. He can play any style and is one of the biggest influences I've had. I'm eternally grateful for what he has taught me and I am confident he will more than accommodate your musical needs." – Christopher Flanagan
___________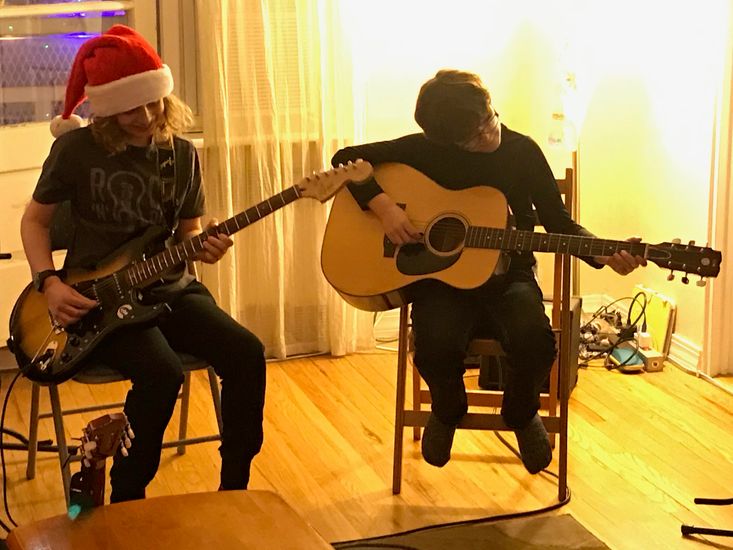 ___________
 "From my personal experience, Marco is a very professional, efficient, and knowledgeable guitar teacher for both adults and kids and a fantastic composer/performer; excellent choice as a teacher for both beginners and advanced guitarists." – Yana Davydova
__________
  "I am a guitar instructor myself & have been working with Marco for the past 4 years. He is a very knowledgable musician and a very skilled guitarist that can cover a lot of bases . I have had the chance to sub for his studio and can say that his students are a lot of fun to teach. They demonstrate great skills & love the guitar (plus they can read!...a lot of guitar instructors don't bother)" – Stelios Michas
 ___________